This is an AWESOME competition that all you scrappers out there just have to enter, $8000 in prizes up for grabs, can you believe it!!!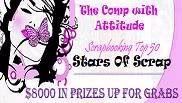 And the deadline for entries isn't until May 2009 so no pressure. Definitely worth checking out,
go on
. They're even looking for brand new unpublished scrappers (like me, lol!). So exciting.